Governor Lou Leon Guerrero
LOURDES AFLAGUE LEON GUERRERO
The Honorable Lourdes "Lou" Aflague Leon Guerrero is the ninth Governor of Guam and the first female governor of the territory. She is also a registered nurse, a businesswoman, a policymaker, a mother, and a grandmother.
Since taking office in January 2019, she eliminated GovGuam's $83 million general fund deficit, paid tax refunds the fastest in Guam's history, raised salaries for nurses, law enforcement officers, and teachers, and ended two costly federal receiverships. Within her first year in office, she worked with the Guam Legislature to raise the minimum wage, legalize cannabis, and deliver millions in long-overdue war reparations to Guam's World War II survivors.
Within months of the unprecedented global pandemic, Governor Leon Guerrero created the island's first-ever unemployment program, providing $808 million to over 30,000 displaced workers. This is in addition to over $100 million in direct aid distributed to over 2,500 local businesses and multiple innovative programs to aid Guam families in recovery. Under her leadership, Guam also achieved one of the highest vaccination rates in the nation. She continues to champion healthcare initiatives, including establishing the island's first-ever paramedic program, and she is currently on a mission to rebuild Guam's only decades-old public hospital.
A graduate of the Academy of Our Lady of Guam (AOLG), Governor Leon Guerrero embarked on a career in nursing, earning a Bachelor of Science in Nursing from California State University and later a Master of Public Health from UCLA. She has worked as a staff nurse in hospitals in both California and Guam. Governor Leon Guerrero has also held several management positions in health care at the Guam Memorial Hospital and FHP Inc. and served on the GMHA Board of Trustees. To this day, Governor Leon Guerrero continues to be passionate about health care and has maintained her licensure as a registered nurse.
In 1994, the people of Guam elected Governor Leon Guerrero to the first of five terms in the Guam Legislature. As a Senator, Governor Leon Guerrero served as Majority Leader and Chair of the Committee on Rules and the Committee on Health. Among her achievements are laws creating the Healthy Futures Fund and banning smoking in restaurants and bars.
In 2005, with the passing of her brother Tony, Governor Leon Guerrero assumed the helm at the Bank of Guam as its new CEO and President. Under her leadership, the Bank of Guam doubled its assets to become a $2 billion enterprise.
Governor Leon Guerrero has also served on the boards of many civic organizations. She is a founding member, past board member, and past President of the Guam Women's Chamber of Commerce. Her many awards and honors include Guam Business Magazine's 2010 Executive of the Year, SBA –Women in Business Champion, AOLG Hall of Fame, and American Nurses Association Excellence in Nursing.
Governor Leon Guerrero is one of three children born to the late Jesus S. Leon Guerrero and Eugenia A. Leon Guerrero. She is married to Attorney Jeff Cook, and they have two children and eight grandchildren.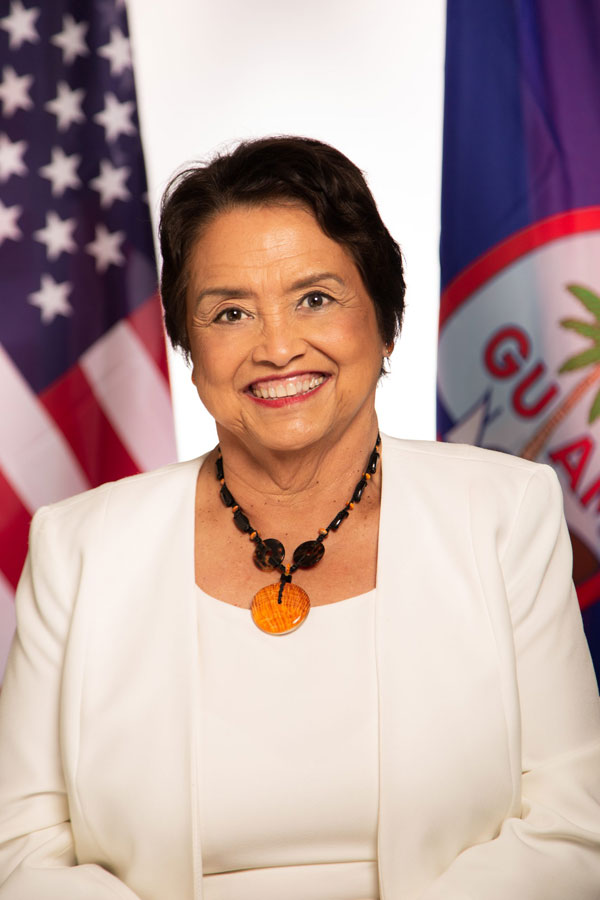 ---
Lieutenant Governor Josh Tenorio
The Honorable Joshua "Josh" Franquez Tenorio is the 10th elected Lieutenant Governor of Guam. He is an experienced executive with a demonstrated history of managing large organizations in both the public and private sectors and has led numerous government boards and non-profit organizations. He lives in Talofofo and was raised in Sinajana.
Since taking office in January 2019, Lt. Governor Tenorio has spearheaded efforts that embrace sustainable development and has worked tirelessly to expand youth programs and opportunities, reduce homelessness and poverty, expand drug and alcohol treatment programs, and improve the juvenile justice and child welfare systems. He is focused on modernizing the business license and building permit systems and improving public infrastructure including village streets and roadways.
He is the Chairman of the Islandwide Beautification Task Force, the Interagency Council on Homelessness, the Guam Hazard Mitigation Committee, and the Guam Product Seal Task Force. He is the Co-Chairperson of the Guam Green Growth (G3) Steering Committee and has oversight over the Guam State Clearinghouse, charged with monitoring federal grant expenditures and programs.
As the first LGBTQ person to be elected Lt. Governor in the United States, he advocates for LGBTQ+ rights and inclusion, and is a founding member of the non-profit, Equality Guam. He is a current and founding member of the Talofofo Rangers Lions Club. Tenorio currently serves on the Global Island Partnership (GLISPA) board of directors, an international organization whose mission is to build resilient and sustainable island communities; and was selected by his peers to serve on the Executive Committee of the National Lieutenant Governor's Association.
Lt. Governor Tenorio began his career as a caseworker in Guam and later as legislative assistant in Washington, D.C. for Congressman Robert A. Underwood in the U.S. House of Representatives. He then served as Deputy Chief of Staff to Governor Carl T.C. Gutierrez, concurrently serving as Director of the Bureau of Planning and later as Deputy Director of the Bureau of Budget and Management Research. He led disaster response and recovery efforts as the Governor's Authorized Representative to the Federal Emergency Management Agency (FEMA) for Typhoons Paka, Chata'an, Pongsona, and the 2001 earthquake. In the Guam Legislature, he served as Judiciary and Transportation Committee Director for Senator Randy Cunliffe and as Chief of Staff to Senator Benjamin J.F. Cruz.
Tenorio took a pause in government service and took roles in the private sector, including Director of Business Development for CoreTech International, Associate Publisher of GU Magazine, and was elected to the Guam Contractors Association.
He returned to public service after being appointed to be Director of Policy, Planning, and Community Relations by Chief Justice F. Philip Carbullido and was later appointed Administrator of the Courts of the Judiciary of Guam by Chief Justice Robert J. Torres. He was unanimously confirmed to the position by the Judicial Council of Guam. Lt. Governor Tenorio is a Fellow of the Institute for Court Management at the National Center for State Courts in Williamsburg, Virginia and is a certified court manager and court executive.
Tenorio returned to the private sector in 2017 and became Vice President of Guam Autospot prior to his election as Lieutenant Governor of Guam. He previously served as Chairman of the Guam Preservation Trust, the Guam Historic Preservation Review Board, the Department of Chamorro Affairs Board of Trustees, Pa'a Taotao Tano and Films by Youth Inside. He has also served as a member of the Guam Election Commission and the Sinajana Municipal Planning Council.
Tenorio recently served on the Executive Committee of the Democratic Lieutenant Governors Association and the Democratic National Committee. He is a former Executive Director of the Democratic Party of Guam and was selected as the 2008 Obama for America Guam Caucus Campaign Manager by the Obama for America Campaign.
Tenorio was the Speaker of the 17th Guam Youth Congress, is a 1991 graduate of the Guam Community College Vocational High School and proud alumnus of Bishop Baumgartner Memorial School, Cathedral Grade School, C.L. Taitano Elementary School and Infant of Prague.
His many awards and honors include the 2021 NLGA Energy and Environmental Stewardship Award, presented in partnership with the National Lieutenant Governors Association (NLGA) and Baker Hughes.
He was raised by his parents, the late Jesus Atoigue Tenorio, a retired telephone man; and Therese Taitano Franquez Tenorio, a retired schoolteacher. His late grandfather, Jose Cruz Franquez, is his role model.